Boy with Bangers
Sep 23, 2005 · Comments
peopleballoonsbook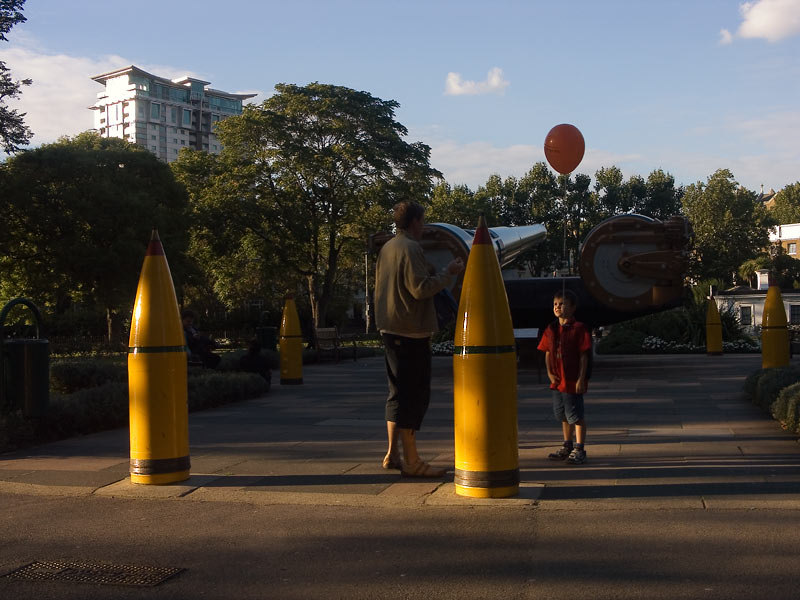 The new book is finally rolling out. Find out more and buy a copy: Pavemental.
Possibly related posts:
---
Old Comments
The comments from the previous WordPress blog.
John Brownlow: lovely. The Imperial War Museum, no?
Gary: IWM, yes, (see above!) It's an odd place - chock-full of the most depressing brutality but with a shop at the end just like any other museum, except that the pencil cases are camouflaged.
ed nixon: On seeing the RSS feed, I expected to see a young-ish individual with spikey hair, safety-pin-pierce and a newspaper full of greasy sausages (although I have no evidence they are ever served that way.) This? An interesting Brit 'understatement' and pun. And I can see where the reputation about bollards comes up. I assume these are in fact disabled WWII German…? The tail part looks almost like a propeller on a torpedo. Nice light. And the balloon adds a certain blitzy resonance, at least for those who might remember (or have read a book or two of 20th century history.) All the best. …edN
Gary: Bangers are also small fireworks that just, um, bang. I try to remind myself to make sure that the entry title has nothing to do with the picture so you should be grateful for understatement. It's outside the Imperial War Museum - and I thnk the shells actually go with the big battleship guns that are stretching into the distance behind the people. I hadn't thought about the balloon that way. It was one of those times when the people were nice enough to just walk into the picture and perform.
ed nixon: Boy, I have to have my eyes checked or get more sleep. I look at this photo again and what initially looked like a propeller atop the item on the right now resolves itself into one of the guns you mention. I saw two halves of the same weapon - one tail down in the concrete (on the left), the other tail up. Makes me think I should really hang up my camera. Cheers. …edN
jd: reminds me of a Paul Klee picture wundervol! …and we won't mention 80's eurovision songs ;-) l8r /jd