Twins and Quads
Nov 9, 2010 · Comments
uncategorised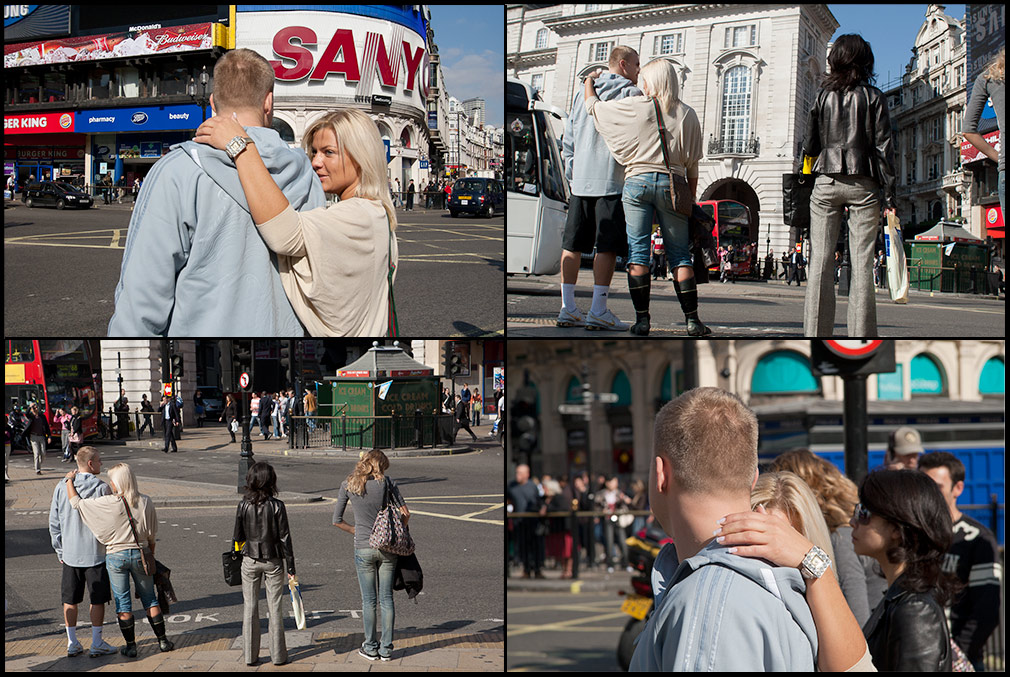 This picture is made from four cameras triggered simultaneously. It's a weird feeling taking a picture when someone else is pressing the shutter release on their camera a few feet away. More fun is pressing the button and making 3 other cameras take a picture (so we took turns). This was shot in 2007 with Jawed Ashraf, Helen Cheng and Dayton Taylor, so long ago that I'm not certain which picture is "mine" and who was triggering - not that it matters.
I'm posting it out now because I recently went to a talk at the Blurb pop-up shop by Wassink and Lundgren where they showed a series which you can see here (Tokyo Tokyo). It's clear they didn't use synchronised cameras but the multiple perspective thing is a nice idea.
As regular readers will know, Jawed and I did similar things with lightsquare (where we tried to catch the flash from the other camera by shouting) and Twins 1 and Twins 2 (2004) which are more automated and random than any of the stuff above. Then, of course, we had to make a movie.
---
Old Comments
The comments from the previous WordPress blog.
Tiffany: Love the quad Gary!! As you know Adrian and I tried the two simultaneous cameras and gave up after days of concerted effort with little reward. I love this quad thing and would love to see more! T
Gary: Thanks T. The reason we haven't bothered to glue any of these together before is because, on first viewing, it didn't look worth the effort. Perhaps not looking for a few years really is a good idea. This was the first set that stood out so I might look again at some point.
We only did one day and mostly, it felt like good practice for another day that never happened.